About
Created from the ground up to revolutionize the school calendar.
---
Free!
Completely free to use.
No Ads!
No ads to get in your way.
Decentralized
Students control their own schedules, not teachers or school administrators. Anyone can create an event and invite others to join.
Privacy Controls
Flexible privacy controls allow you to choose exactly what you want to share with others.
Created by students for students
Created by students frustrated with the lack of school-centric scheduling applications, myScheduleShare allows students to connect with each other and keep their school lives organized.
---
Compare: myScheduleShare > Google Calendar
Powerful Features unique to myScheduleShare:
Friends Dashboard - Get a snapshot of your friends' daily schedule. See what classes they have and when they're free. (Google Calendar lacks this feature)
Side-by-side Schedule Comparison - Compare many different peoples' schedules side-by-side in a color-coded and easy to read interface. (Google Calendar lacks this feature)
Accurate Bell Schedule Periods - Schools have varied Bell Schedules. A class might occur at 8:00-8:45 on Monday, Wednesday, and Friday, but 8:50-9:40 on Tuesdays and Thursdays. myScheduleShare allows Events can repeat at different times on different days. (Google Calendar does not let you do this)
Homework - All events have a "Homework" property that, when changed, will update everyone who follows that event to the latest homework. (Google Calendar does not let you do this)
Tagging - All events can be tagged, for quick reference and sorting. (Google Calendar does not let you do this)
Superior Core Scheduling Model: Events vs. Calendar
myScheduleShare is based on the concept of "Events".
Google Calendar is built around "Calendars".
Events are the LEGO bricks that, when pieced together, make up a Calendar. Every person has only 1 Calendar; every Calendar has many Events.
Google Calendar does not let you manipulate and add specific Events to your Calendar; instead, you must add a colleague's entire Calendar if you want to "share" it with yourself.
For example, if I want to add the Event "Math Class" to my schedule, and "Math Class" is located on Sally's Calendar, I have to add Sally's entire Calendar to my own Calendar to "share" the Event "Math Club" with myself.
myScheduleShare lets you click on "Math Class" and add only that Event to your schedule. myScheduleShare lets you choose specific Events to add, giving you precise control over your Calendar.
Benefits of myScheduleShare's Events-based model:
Ability to add specific events to your calendar, rather than a friend's entire calendar (as Google Calendar forces you to do).
You will be notified every time someone at your school creates a new event.
More precise privacy controls when sharing specific events with others.
---
Features
Compare multiple friends' entire schedules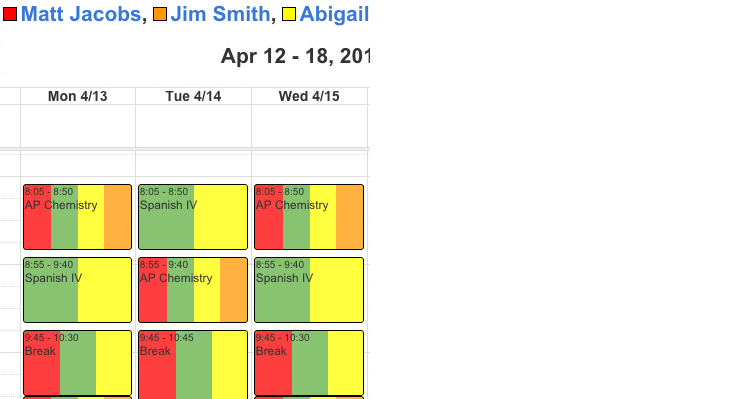 See friends' daily schedules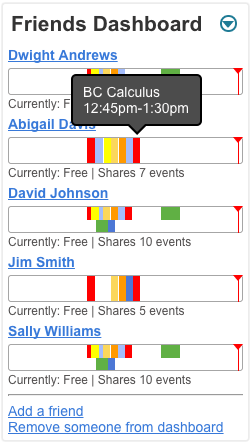 Connect with friends
Your life revolves around school and the friends you make there.

myScheduleShare connects you with the people who matter most.

See your friends' schedules, know who shares your classes, track when friends or teachers are free, and more.
---
Meetings with students and teachers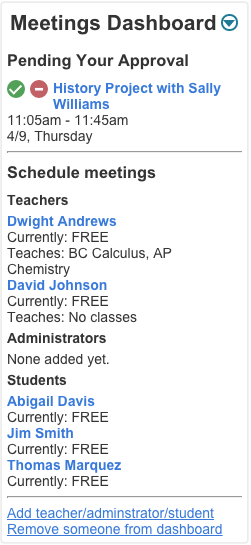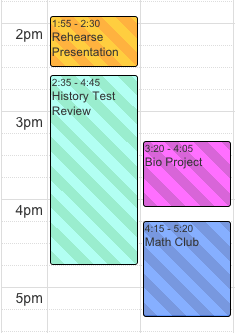 Plan meetings
You have a lot on your plate.

myScheduleShare keeps you organized and takes the guesswork out of scheduling meetings.

Now you can see when everyone in a group is free by viewing multiple peoples' schedules side-by-side.
---
Organize events with tags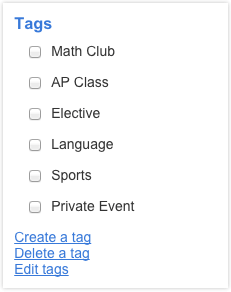 Get tonight's homework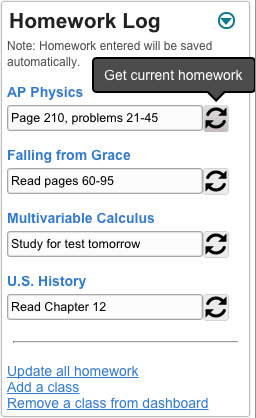 Stay organized
Track your classes, tests, homework, clubs, sports games, afterschool events, and more!

Powerful features include:
Privacy controls
Event feeds
Homework log
Event tagging
---